You have to install FTP Client software for transfer files through FTP. We perfers using WS_FTP for FTP transfer. You can download trial version in the following website.
Create FTP Site
| | |
| --- | --- |
| Click the "Connection Wizard" to enter a wizard whcih help you to create an account in the ftp client. | |
| | |
| --- | --- |
| Enter your site name in the field "Site Name", then click "Next" for further setting. | |
| | |
| --- | --- |
| Enter your server domain name, such as best-view.net or IP address to the "Server Address" field, then continue the procedure by clicking "Next". | |

Input your user ID which is provided by us to the "User Name" field.


In addition, input your password. Click "Next" .

Choose your connection type to be FTP, and click "Next".
Finally, there will be a "Finish" button to end this wizard.
Connect to FTP Server

When you want to connect to the ftp server, just click the "Connect ..." button ...

then select your ftp account from the list to connect to it.
Upload Files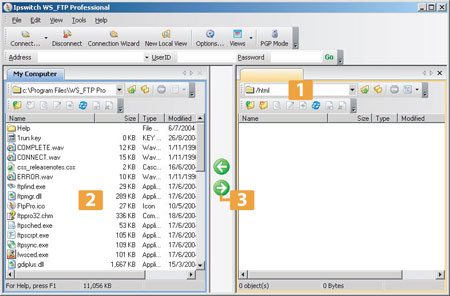 After connected to the ftp server, table on the right hand side will display the files on the server. Please place your files inside the directory /html.




Choose the files you want to upload at the table on the left hand side, remember to highlight it.




Finally, click the arrow buttons to start the uploading of the files you have chosen.