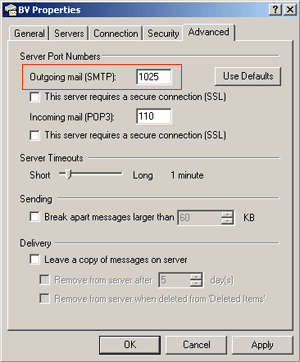 * If your service plan include SMTP Port 1025/2025, and your ISP block Port 25 (eg: PCCW Netvigator, HKBN etc.), please go to Advanced tag and set Outgoing mail (SMTP) to 1025 or 2025.
* If you are using PCCW Netvigator and your plan do not include SMTP Port 1025/2025, please notify that you have to enable outgoing mail server authentication. For more detail please click here.

4. Click OK when ready.

Our SMTP Server use POP Before SMTP authentication, you need to check incoming mail once before send out email.