Web Hosting Manager
Login to the system
1. Open http://hosting.online.com.hk on your browser.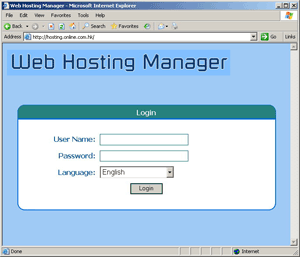 2. Enter your user name and password which are provied by us.

3. Our hosting manager supports three languages, they are English, Traditional Chinese and Simplified Chinese. You can choose the language you want at the Langage option.

4. Submit the information. If the user name and password are correct, you can login to the hosting manager system.
5. If you do not know your User Name and Password, please contact us for help.